*DELIVERY
No delivery service provided, please self-collect it from our showroom. Kindly call us at 6305 2558 / 9824 3388 to book a slot before making your way down.
Neomano is a wearable, soft robotic hand created by Neofect that enables and empowers people with hand paralysis to perform daily activities. It fits over the thumb, index, and middle finger while leaving the other fingers and part of the hand uncovered.


Auxiliary glove that helps paralyzed fingers grasp
* The newly designed Neomano will be delivered which isn't depicted in the photo above. Please note that the old Neomano is displayed in the photo above and check the 'Neomano Full Package'
Hand Size Chart
To find your size: Please measure from the wrist line to the tip of your middle finger as shown above. Product size is very critical for proper function of Neomano so please measure correctly.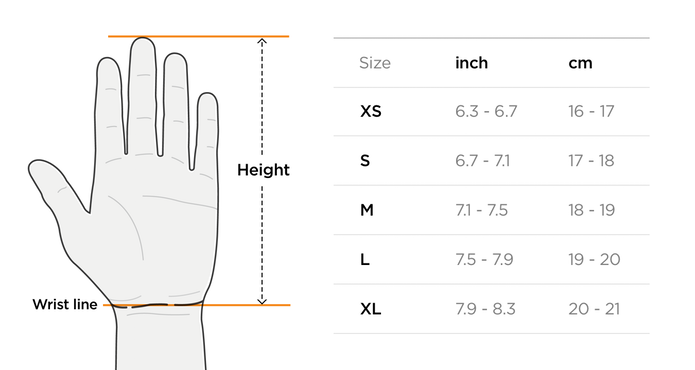 Who Can Use Neomano?
The Neomano is helpful for people with movement in their wrist and arm but little to no strength in their hands. The glove actively assists in closing the index and middle fingers, but does not assist in opening the fingers. The thumb piece is an adjustable metal stay that can be positioned differently depending on the type of object being grasped, but is not robotic. Please note that the range of product use may differ by the diagnosis and individual hand function.


Users can grasp a knife and exert force onto the utensil to cut food, such as fruits. 
Users can grasp a fork to pick up food and have a meal. 
Users can grasp a spoon to lift food and have a meal. 
If the wrist functions properly, Users can grasp a water bottle to pour water into a cup. Users can hold a cup to drink water.
 


 ​ 
Users can hold a bottle and open the lid.  
 


Users can grasp a pen to write texts or a signature.



Users can hold a cup and feed a dog.  
 


 Users can hold a golf club to putt a golf ball.
 


Users can hold a smart phone and take photos.  
 


 Users can grasp a medicine bottle and open a cap. 
 


Users can grasp a leash and take a dog for a walk.



 Other Activities that Users Can Do with Neomano! 
Users can hold a toothbrush to brush their teeth.
Users can hold a razor to shave.
Users can hold a makeup brush to apply cosmetics.
Users can hold a hair comb to brush their hair.  
Users can grab a brush to paint a picture.
Users can read a book as they flip the pages.
Users can hold a cellphone to make a phone call.
Users' Testimonials
"When I first saw the Neomano device, I just immediately thought it would be helpful for somebody like Rachel. My hope with the glove is that she is going to eventually gain a whole lot more dexterity. Being able to pick up things with more ease is gonna be really significant. So now with this Neomano device, she can do more detailed stuff with her hands." - Ulisses Jara-Manual, Rachel's Therapist  

"This (Neomano) will help him and enable him to hold onto things and let go without him using that voluntary contraction that has become weak. That's really an aid to his disability." - Kenneth Noto, Mark's Therapist.  
"It's been interesting because it's so individualized. We can't guess at what the patients would potentially be able to use the tool for. From very simple activities in daily living like eating, taking a top off of a container that they use, golfing, and using it for exercise. You know the activities that are fun. Again, we're bringing it to their lives." - Lauren Sheehan, Occupational Therapist  
Why Choose Neomano?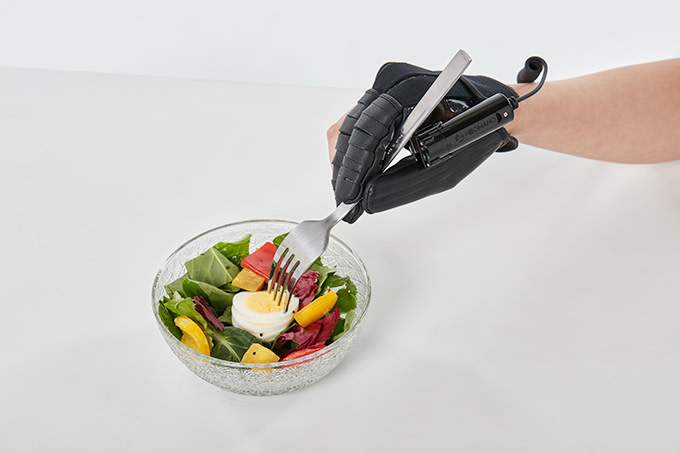 First, Neomano allows people to do a variety of everyday tasks with a single device. 
Daily tasks can be difficult for people that don't have full functionality from their hand, which is why many rely on assistive devices or caregivers. Neomano allows people to return to their daily-living activities and hobbies.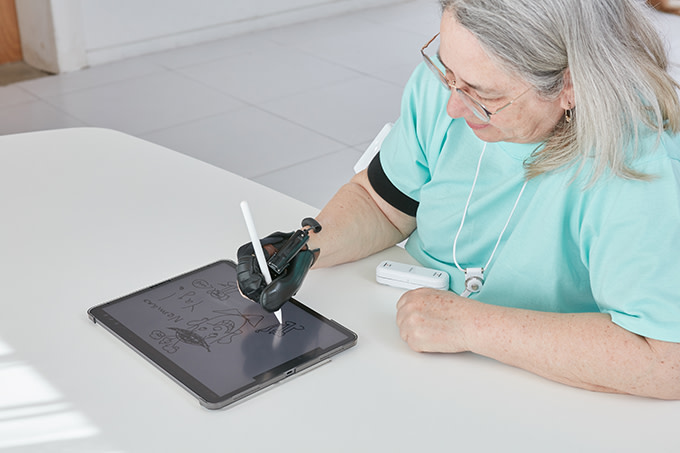 Second, with the wide-array of functional uses, Neomano boosts confidence. 
The grasp pattern provides the independence needed to perform tasks single-handedly, allowing people to move forward with their lives.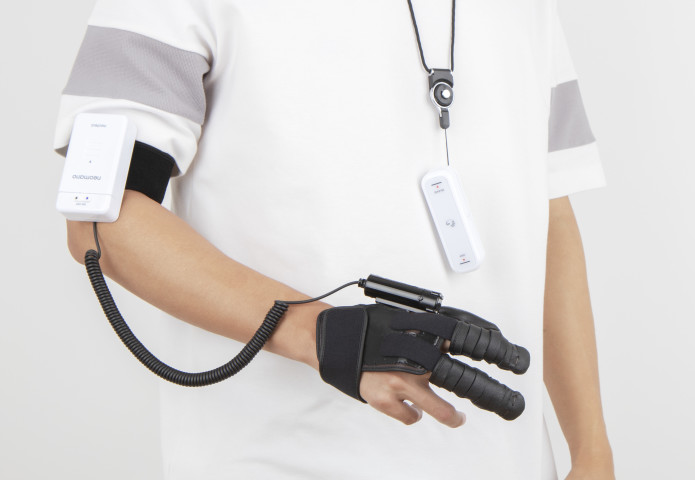 Third, the Neomano design is comfortable enough to be worn in multiple types of situations. 
The partial glove design allows tactile sensory input to part of the palm and exposed fingers, and the leather allows for the flexibility needed for everyday tasks. Neomano can be used by people both in the comfort of their own homes and in public. 


Winner of the Red Dot Design Award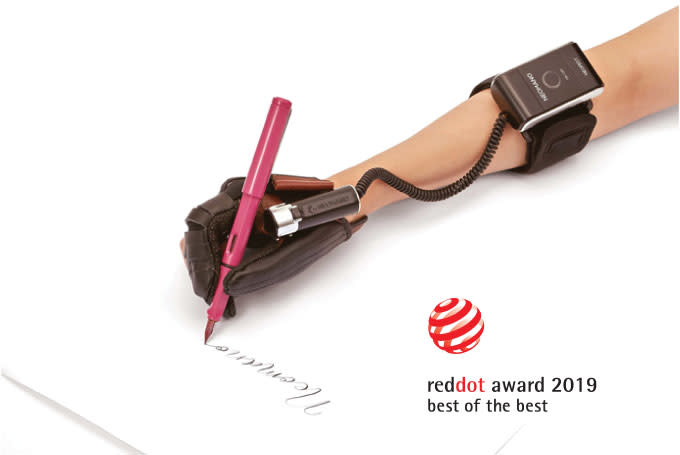 The Red Dot Design Award is the world's largest design competition.
The Red Dot: Best of the Best is awarded for groundbreaking design and is the top prize.
Model
Neomano Glove, left | NEO NM-L (S)
Neomano Glove, left | NEO NM-L (M)
Neomano Glove, left | NEO NM-L (L)
Neomano Glove, left | NEO NM-L (XL)
Neomano Glove, right | NEO NM-R (S)
Neomano Glove, right | NEO NM-R (M)
Neomano Glove, right | NEO NM-R (L)
Neomano Glove, right | NEO NM-R (XL)
PROMOTION
Enjoy 10% OFF when you apply "FIRST10HFH" at checkout for first-time customers. Free delivery.

GST
Price is inclusive of GST.

RETURN POLICY
1 year against manufacturing defect.
Please click https://www.healingfromhome.com/pages/return-refund-policy for more information.

For viewing or enquiring, please contact us at 6305 2525.